Fort Lauderdale Intracoastal Cruises
Check out the Venice of America on your own private boat with a skipper as your guide. Cruise down the Intracoastal Waterway and see Millionaire's Row, the beautiful mega million dollar homes along the waterfront. Fort Lauderdale's Intracoastal Waterway is always teeming with luscious yachts, gorgeous homes constructed where money just wasn't an issue, great restaurants and some of the Fort Lauderdale sights that can only be experienced from a boat. All of these trips are 2 hours, except Miami trip is longer.

Intracoastal Cruise Rates:
3 hours $350 for 4 people
4 hours $425 for 4 people
6 hours $575 for 4 people
Larger boats are available if it is more than 4 persons in your party.
Popular Cruise Destinations

New River to Downtown Fort Lauderdale: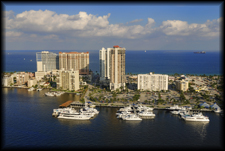 The New River is an offshoot of the main intra coastal, which flows inland into downtown Fort Lauderdale. On this trip, we'll head past some very famous people's and celebrity homes. We will see some great parks, historical houses, the bigger than life IMAX theater, and even stop for you at the Riverfront at Las Olas Blvd. Usually there's some live music going on there and it's a great spot to stop for a cocktail. Pass under the drawbridges and directly over the Henry Kinley tunnel. A great way to experience the Fort Lauderdale Intercoastal and it won't take more than a couple hours.

North Bound Restaurant and Bar Hopping: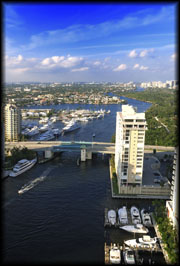 Cruise north under the Las Olas Boulevard bridge. If you're into a bar hopping voyage, we can go up to Shooters for some drinks and partying, or maybe a nice sit down dinner at Charlie's Crab. Or just cruise the waterway and view the wonderful homes of South Florida. Whatever you're looking to do, it's your boat, and the captain is at your service. The captain will try to do whatever you want and can even give you a pretty good tour from the local perspective.







You can also stick your nose out in the ocean for a bit. After a few minutes of riding down the Intracoastal Waterway, the captain will take you out into the ocean and run the boat north or south, along the beach. Check out the Fort Lauderdale skyline from the ocean. This is a great trip for some good photos of the Fort Lauderdale beaches and water.

Cruise to Miami and Back- 6 hours required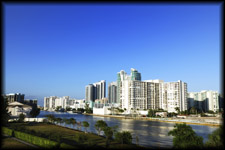 Spend the day cruising the intercoastal waterway from Fort Lauderdale to Miami, Florida. The captain will take you south from Fort Lauderdale on your own private charter aboard the Never Enough. See and wave to all the other South Florida boaters that pass by and check out some of the newest and grandest hotels and resorts, Miami has to offer. Stop in and have lunch at a restaurant along the water. Spend your time in Miami, cruising the waterways and checking everything out, or ask the captain to drop you off for some light shopping or sightseeing. The boat and captain are at your disposal, so do whatever you want on this trip, just make sure to have fun.