Eco Trip Cruise-The Living Ocean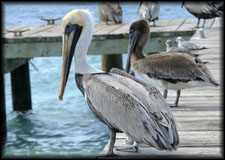 Come and see the multitude of natural marine wildlife that Fort Lauderdale has to offer. Fort Lauderdale has a plethora of different marine species, including manatees, porpoises, sea turtles, sharks, rays, game fish like tarpon and barracuda, iguanas, pelicans, ospreys, sea gulls and more. On this trip, we travel the Intracoastal Waterway and out into the ocean to see the beautiful marine animals in their natural habitat. The Never Enough is the perfect boat for this outing because of its dead quiet 4 stroke engine that you can't even hear running. It's a great way to go out, relax and enjoy nature.

One of the most famous marine mammals in South Florida is the Florida manatee, a slow moving, friendly marine mammal. A great first stop on this trip is the hot water canal. This area is a manatee and fish sanctuary where very slow moving boats can come to take photos of and see manatees, tarpon, and other sea life. We'll also go out into the ocean where the captain will spot out and show you sea turtles, manta rays, porpoises, sharks and schools of big game fish chasing baitfish on the surface. On the way back in, we usually like to stop at the Lauderdale Marina, where there lives a school of humongous tarpons, always looking to be fed some live shrimps. Feed the 100 pound plus tarpon and jack crevalles as they get chummed into a feeding frenzy. This is a great trip for small families, nature enthusiasts, and folks that just want to see some beautiful South Florida scenery and wildlife. Bird watching enthusiasts will particularly enjoy this trip, because a lot of the bird species we see on the ocean are rarely seen on land.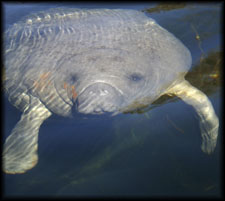 Many of the areas we go to on this trip are fish and wildlife sanctuaries and therefore fishing is prohibited. Because we are not fishing on the Eco-Trip, the prices for this trip are for up to 4 people. Contrary to our fishing trips aboard this boat, you can bring up to 6 people on this trip for an additional charge. Bring some snacks, drinks, sunglasses and don't forget your camera because you're going to see some stuff that you want photos of.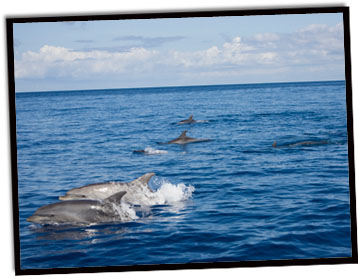 Reserve Your Charter. Major Credit Cards Accepted.